Alice
Auction HIP #31
OWNER INFO:
Jeff and Christina Tift
307-752-8197
jefftift@rangeweb.net
MULE QUALITIES:
Rope Heel - Prospect
Reining Horse - Started
Kid Horse - Prospect
Rope Calves - Prospect
Ranch Horse - Started
Barrel Horse - Started
Parade Horse - Finished
Cutting - Started
Trail - Finished
Mounted Shooting - Started
MULE DISPOSITION =
2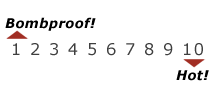 MULE DETAILS:
| | |
| --- | --- |
| Sex: | Mare Mule |
| Color: | Grey |
| Height: | 14.3 |
| Weight: | |
| Age in Years: | 10 |
DESCRIPTION | Alice
Alice is a nice, broke mule. She has a one handed neck rein and really travels out nice with a fast passed walk but yet on a loose rein. She has been on countless trail rides in the mountains and goes thru all kinds of water, boggy areas, over logs and thru timber. She is sure footed, smooth and a joy to ride on the trail.
She also rides well in the arena. She lopes nice circles in the correct lead, sidepasses, does turn arounds, stops and backs nicely. She is soft in the mouth and responds well to all cues. We have also roped and worked a few colts off Alice.
You can crack the bull whip onher, flop your tarps, push the ball around, drag anything, and carry the flag on her as well.
Alice is good to catch, be around and ride. She is good about her ears and feet and is an all around good mule thats fun to ride.
She has been packed extensivly and has also been coon hunted on in the past.
There will be a sale video available of Alice by sale time. Please go to www.WyomingHorsesAndMules.net
If you have any questions, please give us a call at 307-752-8197 we would love to tell you more about her.