Benny's Best Bourbon
Auction HIP #57
OWNER INFO:
Jeff and Christina Tift
3077529319
jefftift@rangeweb.net
MULE QUALITIES:
Rope Heel - Started
Reining Horse - Started
Kid Horse - Prospect
Rope Calves - Started
Ranch Horse - Finished
Barrel Horse - Started
Parade Horse - Finished
Cutting - Started
Trail - Finished
Mounted Shooting - Started
MULE DISPOSITION =
3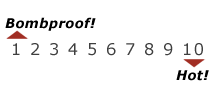 MULE DETAILS:
| | |
| --- | --- |
| Sex: | Horse Mule |
| Color: | Brown |
| Height: | 15 |
| Weight: | |
| Age in Years: | 5 |
DESCRIPTION | Benny's Best Bourbon
Benny's Best Bourbon.
Bourbon will be as shapy of a Quarter horse type mule as you will find. He will stand right at 15 hands and
will have a pretty head and very nice hip and good bone. He is gentle and willing and have all the buttons as far as soft in the face
pick you up from a bucket or fence, rock or log. We have used this mule in the mountains behind cattle and have hunted and packed
elk on him. He is good in the string and fun to be around.
Our top hand Twister rides him often thru the hills to court his girlfriend and help her move cattle. He is used to all the arena
toys such as the noodles, bullwhips,tarps, and flags. He really lopes nice circles and has correct turn arounds and a nice stop.
This young mule has a really bright future anyway you want to go on with him either in the showpen, mountains or trailriding and hunting.
He is very easy to catch, good with his feet and ears and just a joy to be around. We have done everything on him that we do here on
the ranch starting and halter breaking colts and lots of outside miles. We really like this mule. If you want more information please
call Jeff at 307-752-9319 more pictures and video's www.wyominghorsesandmules.net