Big Nose Kate
Auction HIP #82
OWNER INFO:
Oly & Cristina Edmiston
970-556-4820
cow-vet@hotmail.com
MULE QUALITIES:
Rope Heel - Started
Reining Horse - Started
Kid Horse - Started
Rope Calves - Started
Ranch Horse - Finished
Barrel Horse - Started
Parade Horse - Finished
Cutting - Started
Trail - Finished
Mounted Shooting - Started
MULE DISPOSITION =
2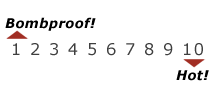 MULE DETAILS:
| | |
| --- | --- |
| Sex: | Mare Mule |
| Color: | Sorrel |
| Height: | 15 |
| Weight: | 1100 |
| Age in Years: | 8 |
DESCRIPTION | Big Nose Kate
Big Nose Kate is a mule that does just about anything under the sun. She is experienced in all phases of cattle work, trail riding in town and in the mountains, packing, arena events (gymkhanas, ranch sorting, team roping and working equitation), and parades. She rides the same every time, regardless of weather or time off. Ride her Western or English. She is soft, supple, and smooth. Kate knows her leads and lopes a nice collected circle. She is one hand broke. She moves off your legs and will put her hips, ribs, and shoulders where you want them. She walks out quietly and confidently where you point her, alone or in a group. She crosses bridges, water, deadfall, rough terrain, soft ground, and railroad tracks, and she has been exposed to all the sights in town from cyclists and strollers to irritated canines. Big Nose Kate has training, intelligence and looks to excel at whatever you have in store for her. Check out her sale video available closer to sale day. You can see short clips and her most current pictures an videos on our facebook page (www.facebook.com/stockworksinc). Call Oly at 970-556-4820 for more information or to come meet her before the sale.