Big Time
Auction HIP #48
OWNER INFO:
Keith Whitemarsh
509-366-7133
keithwhitemarsh@yahoo.com
MULE QUALITIES:
Rope Heel - Started
Reining Horse - Started
Kid Horse - Started
Rope Calves - Started
Ranch Horse - Finished
Barrel Horse - Started
Parade Horse - Finished
Cutting - Started
Trail - Finished
Mounted Shooting - Started
MULE DISPOSITION =
2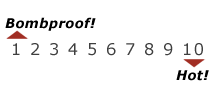 MULE DETAILS:
| | |
| --- | --- |
| Sex: | Horse Mule |
| Color: | Dunn |
| Height: | 15.3 |
| Weight: | 1280 |
| Age in Years: | 6 |
DESCRIPTION | Big Time
This mule combines good looks and more importantly a great mind. That makes him fun and safe to be around. He has been ridden many miles on and off the trail around all kinds of wildlife (including buffalo) and has been rode downtown through the drive-through. He does everything a good mule should, like stand for mounting, side pass, is good to catch and easy to load. He also willingly trots and lopes Figure 8 and has a nice stop, even without a bridle. He slicks off beautifully exposing his shiny black boots, tiger stripes at the knees and prominent dorsal stripe. With his long tail it is winning combination. Big Time is worth his weight in gold as he has pulled elk to the road, calves to the branding fire and kids on sleds. He has plenty of endurance, but will stand quietly while you look through your binoculars or just take in the scenery (even if you are riding alone). He is handy enough to rope and work cattle and mature enough to use in riding lessons (students love him). He is registered and has already seen success showing and has won ribbons in Bishop California. He has inherited a great disposition from his registered Percheron dam and his well decorated register sire that has won "World Champion Donkey" in Bishop, "1st Place Donkey English Pleasure", "Donkey Pole Bending" and many other awards.
Whitehorse Mules is very proud of the fact that this is our 6th consecutive year at Jake Clark Mule Days and all but one mule are still with their original owner. The exception was due to an owner's unforeseen medical bills and we were able to buy the mule back. This ensures you can bid with confidence. See Big Time's awesome video on Whitehorse Mules YouTube channel. See more photos and updates of Big Time on Whitehorse Mules Facebook page. Big Time's new owner receives a free clinic with Whitehorse Mules and free lifetime phone support. Feel free to call 509-366-7133.