Breezy
Auction HIP #48
OWNER INFO:
Keith Whitemarsh
509-366-7133
keithwhitemarsh@yahoo.com
MULE QUALITIES:
Rope Heel - Started
Reining Horse - Started
Kid Horse - Started
Rope Calves - Started
Ranch Horse - Started
Barrel Horse - Started
Parade Horse - Started
Cutting - Started
Trail - Finished
Mounted Shooting - Started
MULE DISPOSITION =
2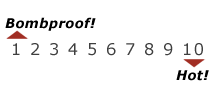 MULE DETAILS:
| | |
| --- | --- |
| Sex: | Mare Mule |
| Color: | Grey |
| Height: | 14.2 |
| Weight: | 965 |
| Age in Years: | 8 |
DESCRIPTION | Breezy
Breezy is a safe, sound, sensible, fun mule. She is stout but not soggy or drafty and has the right amount of go, not slow, not chargy. She rides in front, back or off by herself. She trots and lopes figure eights one-handed, transitions smoothly from walk, trot to lope and has a good stop and sidepass. She does everything a broke mule should do and more, she stands for mounting, stands while tied up, loads and hauls quietly. I have roped and pulled the Heel-O-Matic and cattle with her. She has been ridden in all kinds of rough country, on and off trails, along the highway to town and her black feet held up great.
After not riding for 4 months and her having more time off than me, she was the first mule I rode while my leg was still in a cast. Shortly after, we were pulling the kids on their sleds.
Whitehorse Mules is proud of the fact that all our mules sold at this auction are still with their original buyer, except one, that I was able to buy back when it's owner was faced with unexpected bills. See Jake Clark Mule Days 2019 Breezy on YouTube and follow Whitehorse Mules of FB for photos and updates on Breezy. 509-366-7133