CALYPSO
Auction HIP #09
OWNER INFO:
SCOTT OR SANDY SALLEE - BLACK MOUNTAIN OUTFITTERS
(406)222-7455
blackmtn2@aol.com
MULE QUALITIES:
Rope Heel - Prospect
Reining Horse - Prospect
Kid Horse - Started
Rope Calves - Prospect
Ranch Horse - Prospect
Parade Horse - Finished
Cutting - Prospect
Trail - Finished
Mounted Shooting - Prospect
MULE DISPOSITION =
2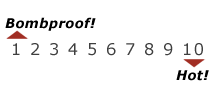 MULE DETAILS:
| | |
| --- | --- |
| Sex: | Horse Mule |
| Color: | Bright Sorrel |
| Height: | 15.2 |
| Weight: | 1250 |
| Age in Years: | 9 |
DESCRIPTION | CALYPSO
CALYPSO is a nine year old flashy GENTLE bright sorrel stocking-legged john mule. He is 15.2 hands and has massive experience in the mountains. He has led the string and been packed everywhere in it. Calypso has been ridden by experienced, intermediate and novice riders. He is very good-natured and forgiving and loves people. He stands to get on and has been ridden with both a crupper and britching. He crosses water, bridges and deadfall, and rides in the dark. He stands tied and has great ground manners. Calypso is easy to catch, shoe, bridle, and load. He has also been packed everywhere in the string, and ridden alone. He is good with dogs. Calypso is a finished parade mule. Sure-footed, willing, with a nice handle and very good smooth walk. He is quite a character and a lot of fun. Broke to hobbles and just plain broke. Safe Trail Mule! Current on Coggins, Vaccinations, and Wormer. For more info blackmtn2@aol.com or (406)222-7455. We will have videos available before sale time.