Callie
Auction HIP #21
OWNER INFO:
T. J. & Jake Clark
307.272.4563
wyomingtj@yahoo.com
MULE QUALITIES:
Rope Calves - Started
Parade Horse - Finished
Trail - Finished
MULE DISPOSITION =
3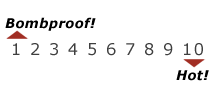 MULE DETAILS:
| | |
| --- | --- |
| Sex: | Mare Mule |
| Color: | red & white paint |
| Height: | 15.2 |
| Weight: | 1300 |
| Age in Years: | 7 |
DESCRIPTION | Callie
Callie is a beautiful red & white paint mare mule that stands 15.2 hands tall and weighs 1300#. She is 7-years-old and has been ridden for the last 3 years in all types of situations on the mountain. She has packed meat, horns, kitchen panniers, and duffle, has crossed rivers and led pack strings. She has walked through creeks, rivers, mud, crossed logs of all kinds, walked up and down the steep terrain where we hunt and traveled through grassy meadows on our summer trips. All our stock is used to traveling in the dark as we ride out before daylight and return after dark. She won't wash dishes, set up tents or cook, but she'll do just about everything else in the mountains. She is good to shoe, loads good, good to clip and haul. I've been riding her this spring for ranching work to doctor cows and calves, so she's handled a rope. She walks out good, tough and can climb hard. She loves treats. She'll love you more if you happen to have one!