Cleo
Auction HIP #22
OWNER INFO:
Chris Knudson
307-680-4875
cknudson@wyodakenergy.com
MULE QUALITIES:
Rope Heel - Prospect
Reining Horse - Started
Kid Horse - Prospect
Rope Calves - Prospect
Ranch Horse - Finished
Barrel Horse - Prospect
Parade Horse - Started
Cutting - Started
Trail - Finished
Mounted Shooting - Started
MULE DISPOSITION =
5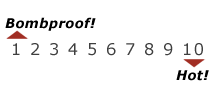 MULE DETAILS:
| | |
| --- | --- |
| Sex: | Mare Mule |
| Color: | Sorrel |
| Height: | 14.3 |
| Weight: | 950 |
| Age in Years: | 7 |
DESCRIPTION | Cleo
Cleo is gentle, 100% sound and really good about her feet. She has been on numerous mountain lion hunts and when we hunt lions we ride to the tree. She did a month long stint for the Game & Fish where they collected DNA on several lions per day. Cleo is a handy sized mule with a great big motor. She is always ears up and eager to see what is around the next corner. Cleo has been used on the ranch for a year and used on our Big Horn Mountain cattle lease. She has drug calves to the fire and I use her running the brood mare bunch. Cleo knows where her feet are at all times and keeps a light mouth jingling horses. Nice saddle mule.