Cruiser
Auction HIP #19
OWNER INFO:
Bryan Mahoney
406-839-4224
mahoneymuleco@aol.com
MULE QUALITIES:
Reining Horse - Started
Kid Horse - Finished
Ranch Horse - Finished
Parade Horse - Finished
Trail - Finished
Mounted Shooting - Started
MULE DISPOSITION =
2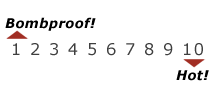 MULE DETAILS:
| | |
| --- | --- |
| Sex: | Horse Mule |
| Color: | Sorrel |
| Height: | 14.3 |
| Weight: | 1000 |
| Age in Years: | 12 |
DESCRIPTION | Cruiser
Cruiser is a true dream mule! He got his name for obvious reasons. When you go loping through a field or trotting down a country road
it's like you're on a cloud!
He's been ridden by everyone from grandpas to grand kids. He
goes where you point him if it's through a creek, over a tree, down or up steep inclines you just point and go. If you need to get off
he will move over to a stump or rock to make it easy for you to get back on and he will stand perfectly until you ask him to walk off.
Great with dogs, wildlife, 4 wheelers and confident riding by himself. He neckreins, stops, backs and goes through gates and side passes easily.
If you want to do arena work his cues are soft and easy. A little squeeze and he has a smooth jog you can ride all day long. He takes his leads and will step right up into a rocking chair lope on
a loose rein.
Cruiser loves attention.
He's easy to catch, stands to saddle, will fall asleep while you brush him and likes baths. Always gentle, good to clip, picks his feet up and jumps right in the trailer for your next adventure.
Experienced and ridden all over the country from Big Southfork, Tennessee, Deserts of Arizona to the Mountains of Montana and he's like a mountain goat going up, over and through it all.
He lays down, sits up, carries flags, goes over tarps,rides in parades and is willing and ready for your next adventure. Sure to be a sale highlight!
Cruiser is a gorgeous, fun, respectful, well trained mule for the entire family to enjoy for a lifetime of happy trails!