Eleven
Auction HIP #23
OWNER INFO:
Wesley and Brandy Wells
660-728-2599
Wesleywwells@gmail.com
MULE QUALITIES:
Rope Heel - Prospect
Reining Horse - Prospect
Kid Horse - Started
Rope Calves - Prospect
Parade Horse - Finished
Cutting - Prospect
Trail - Finished
MULE DISPOSITION =
2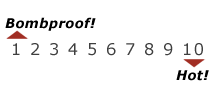 MULE DETAILS:
| | |
| --- | --- |
| Sex: | Horse Mule |
| Color: | Bay |
| Height: | 15 |
| Weight: | 1050 |
| Age in Years: | 9 |
DESCRIPTION | Eleven
Eleven, affectionately know to our family as 'leven, was born on April 11, 2011. He is out of a very nice Quarter Horse Mare and a son of the great jack, Hawkeye. 'leven has been part of our family since 2012. He is quiet, gentle and and very nice to be around. 'leven has been my go-to mule for the past several years, always ready for a new adventure. We have exposed 'leven to a lot of different things over the years, from wild hogs to thousands of people, wagons, mules and horses at the National Championship Chuckwagon Races. I have led dogs off of 'leven and penned thousands of cattle at the stockyards with him. In 2019 I had the opportunity to explore the Black Hills of South Dakota while riding 'leven. He is the kind of mule that you can ride every day or once a year and he will be the same no-nonsense mule that you unsaddled the last time you rode. 'leven was started by Loren and Cole Basham of Pair-a-Dice Mules and has 120 days of professional training with them. He has a nice one-handed neck rein and stops well. He is good with his feet and ears and clips well. Don't miss out on this opportunity to add this great mule to your family! Look us up at Jake's and take 'leven for a ride. If you have any questions feel free to give Wesley a call at 660-728-2599.