Franny
Auction HIP #35
OWNER INFO:
Jessica Aspenwall
651-271-1707
jessicanicole.1023@gmail.com
MULE QUALITIES:
Rope Heel - Prospect
Reining Horse - Prospect
Kid Horse - Finished
Rope Calves - Prospect
Ranch Horse - Started
Barrel Horse - Prospect
Parade Horse - Finished
Cutting - Prospect
Trail - Finished
Mounted Shooting - Started
MULE DISPOSITION =
2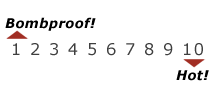 MULE DETAILS:
| | |
| --- | --- |
| Sex: | Mare Mule |
| Color: | Bay |
| Height: | 14.2 |
| Weight: | 1200 |
| Age in Years: | 10 |
DESCRIPTION | Franny
Franny is a 10 year old bay mare mule. Franny has been rode extensively out on the trail and she will go all day with no complaints. Franny has a nice walk, trot and lope. She is smooth and steady. Franny crosses water, bridges, logs, tarps and more. Franny has been packed off of plenty and follows along great (see video). She will also lead and pony the gang behind her. She is as cute as can be and extremely friendly. Franny is ALWAYS the first to greet you in the pasture and will follow you around all day, no halter needed. Franny has a nice back up, flexes around laterally and has a nice neck rein started. She is easy to be around, picks up feet, stands for farrier and vet and will walk right into the trailer. You can crawl all over her and tug on her ears, not much bothers her and she loves the attention. Franny is truly a mule the whole family can enjoy and would be youth suitable (for the right youth of course).
Feel free to call/text or email Jess with questions.