JAKE
Auction HIP #65
OWNER INFO:
LANDON BAILEY
501-213-8594
wildbunchhorseandmuleco@gmail.com
MULE QUALITIES:
Rope Heel - Started
Kid Horse - Finished
Ranch Horse - Started
Barrel Horse - Started
Parade Horse - Finished
Trail - Finished
Mounted Shooting - Prospect
MULE DISPOSITION =
3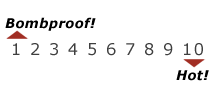 MULE DETAILS:
| | |
| --- | --- |
| Sex: | Horse Mule |
| Color: | Sorrel w/stockings |
| Height: | 10.2 |
| Weight: | 580 |
| Age in Years: | 12 |
DESCRIPTION | JAKE
JAKE is a great little pony Mule with lots of color with chrome. He has been owned by one of our best friend's for most his life. He bought him for his grandson eventually but the grandson out grew him. He sat for about 3 years and we got him. Since then Landon has rode the hair off him. He will do some tricks with him when we get to Jake's. He will work for most kiddos that know how to handle the reins and sit in the saddle correctly. Landon loves this little Mule and we know one of your kiddos will, too. Feel free to call us and try him here at the ranch or once we get to Jake's. For more videos, pics or info, call Jennifer at 501-213-8594 and ask for Landon.