Jeep
Auction HIP #37
OWNER INFO:
Quint & Amy Gonzales
307-758-4632
quint@gonzalesmail.com
MULE QUALITIES:
Reining Horse - Prospect
Kid Horse - Started
Ranch Horse - Started
Cutting - Prospect
Trail - Finished
MULE DISPOSITION =
5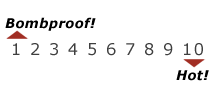 MULE DETAILS:
| | |
| --- | --- |
| Sex: | Horse Mule |
| Color: | Dun |
| Height: | 15 |
| Weight: | 1200 |
| Age in Years: | 14 |
DESCRIPTION | Jeep
This mule will get you noticed, not only for his color or build, but for all that you can accomplish on him. Jeep has been primarily used on the ranch doing typical ranch jobs, but he excels at sorting cattle. Jeep has also been used in the mountains. This mule always knows where his feet are, and is aware of his surroundings. Travels well and is never a hot head. Works well off your leg and with a light hand. Ride him in a shank snaffle or a bosal. Good to clip, trim, and shoe. Well suited for most riders (has not been tested with first timers). Stays broke and is the same with months off. Jeep, the original all terrain vehicle.