Miss Money Penny
Auction HIP #02
OWNER INFO:
Matt & Pam Fournier - Rafter F Equine
(541) 280-5077
fourniertraining@gmail.com
Consignor Bio
MULE QUALITIES:
Rope Heel - Started
Reining Horse - Started
Kid Horse - Started
Rope Calves - Finished
Ranch Horse - Finished
Barrel Horse - Prospect
Parade Horse - Finished
Cutting - Started
Trail - Finished
MULE DISPOSITION =
2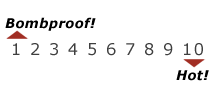 MULE DETAILS:
| | |
| --- | --- |
| Sex: | Mare Mule |
| Color: | sorrel with star |
| Height: | 14.3 |
| Weight: | 1100 |
| Age in Years: | 12 |
DESCRIPTION | Miss Money Penny
Penny is a 12 year old well built stockhorse type molly mule. At just under 15 hands, she is the perfect, most sought after size. She has a huge quarterhorse hip and is short coupled with plenty of bone. She has good, solid feet and lots of muscle. Penny is broke and in the bridle and handy in the arena but she really prefers being a cow mule or trail riding. She is good for the farrier, good about her ears and easy to catch. This molly has spent time in the branding pen and doctoring cattle outside. She will hold a cow on the end of a rope while you doctor it. We have used her to lead pack mules and she has been ridden by teenagers. Penny would be a fun mule for youngsters and a great mule for adults to use for ranch work or trail riding. We have used her for hunting, trail riding and on cattle, in the Cascades and Badlands of Oregon, cattle ranches in central California and the Salmon River country of Idaho. She has been shown very minimally and excelled in arena trail and on the extreme trail course. She is easy to shoe, good with dogs, good about deworming and fine with vaccinations. She gets along great with horses and other mules and is a low maintenance girl. Up to date on vaccinations, deworming, hoof and dental care.
BLEMISHES | Miss Money Penny
none