Napoleon
Auction HIP #52
OWNER INFO:
Oly & Cristina Edmiston
970-556-4820
cow-vet@hotmail.com
MULE QUALITIES:
Rope Heel - Started
Reining Horse - Started
Kid Horse - Started
Rope Calves - Started
Ranch Horse - Finished
Barrel Horse - Started
Parade Horse - Finished
Cutting - Started
Trail - Finished
Mounted Shooting - Started
MULE DISPOSITION =
3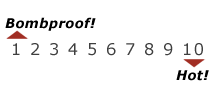 MULE DETAILS:
| | |
| --- | --- |
| Sex: | Horse Mule |
| Color: | Sorrel |
| Height: | 13.2 |
| Weight: | 900 |
| Age in Years: | 14 |
DESCRIPTION | Napoleon
Whether dragging calves, hitting the trails, or winning ribbons, Napoleon is ready to lead the campaign of your choosing. He has been fun for the whole family. He is trail savvy, packs, comes with plenty of arena and gymkhana experience, and when it comes to ranch and feedlot work, he is broke like a big mule. Napoleon is cute and friendly, in a handy size, with good bone and deep heart girth to go all day. He is easy to catch, saddle, and stands to be mounted. Catch this mule rain or shine, he will go where you point him, alone or in a group. He moves off leg cues, has a nice one hand neck rein, and picks up both leads. Napoleon is a mature all around mule and has too many great attributes to list. Please enjoy his video; as the little general himself said, "A good sketch is better than a long speech." Call 970-556-4820 for more information or to come try him before the sale. Also check out our facebook page (www.facebook.com/stockworksinc) for the most current video clips and pictures.