Nate
Auction HIP #79
OWNER INFO:
Jessica Aspenwall
651-271-1707
jessicanicole.1023@gmail.com
MULE QUALITIES:
Rope Heel - Prospect
Reining Horse - Prospect
Kid Horse - Finished
Rope Calves - Prospect
Ranch Horse - Started
Barrel Horse - Prospect
Parade Horse - Finished
Cutting - Prospect
Trail - Finished
Mounted Shooting - Started
MULE DISPOSITION =
2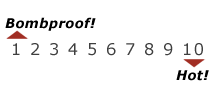 MULE DETAILS:
| | |
| --- | --- |
| Sex: | Horse Mule |
| Color: | Black |
| Height: | 14 |
| Weight: | 1000 |
| Age in Years: | 10 |
DESCRIPTION | Nate
Nate is a 10 year old black mule who is broke to ride and drive. Unfortunately, we don't have a harness or cart available but he is said to drive single and double (we drove him on the ground with a make-shift twine harness and he did great, see video). Nate has been rode extensively out on the trail and does great with all obstacles. He crosses water, logs, tarps, tires, bridges, etc. Nate is the first to meet you at the gate and loves his ears scratched. Nate has also been rode plenty in the arena, he has a nice stop, walk, trot and lope. Nate would prefer to go slow and steady but will speed it up when asked. Nate is a point and shoot type mule, if you can crawl on and steer you can ride this mule. He could easily be youth suitable. Loads onto the trailer with ease and stands good for vet and farrier. He has been shod but recently we have been riding him barefoot with no problem. Nate is sane, sound and looking for a new family.
Feel free to call/text or email Jess with questions.