PairADice's Kelsie
Auction HIP #16
OWNER INFO:
PairADice Mules
573-308-2709
Pairadicemules@hotmail.com
MULE QUALITIES:
Rope Heel - Started
Reining Horse - Finished
Kid Horse - Finished
Rope Calves - Started
Ranch Horse - Finished
Barrel Horse - Started
Parade Horse - Finished
Cutting - Started
Trail - Finished
Mounted Shooting - Started
MULE DISPOSITION =
2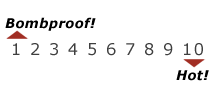 MULE DETAILS:
| | |
| --- | --- |
| Sex: | Mare Mule |
| Color: | Sorrel |
| Height: | 14.3 |
| Weight: | 1050 |
| Age in Years: | 7 |
DESCRIPTION | PairADice's Kelsie
PairADice's Kelsie is a 14.3 hand sorrel mare mule that has excellent conformation. She is big hipped, has a clean neck, broad chest, cute head and a great back to hold a saddle. We started this mule when she was three (3) and have used her ever since for everything you can imagine. She has lots and lots of miles hog hunting. You can lead dogs or pack them out. She has had lots of hogs packed out on her. You can pack anything on her - nothing bothers her. She has been used at the stockyards and penned thousands of cattle. She is easy to open and close a gate off of and has drug lots of calves. In the arena, she rides like one is suppose to: walks, trots and lopes circles, takes both leads, does nice lead changes, soft in the hands and on her sides. She could easily be made into a competitive show mule - but is already perfect on the trail. She is easy to catch, good to shoe, loves to be clipped, stands still to mount, loads good and gets along in the pasture with others. She sells 100% sound and safe. If you are looking for the perfect companion, Kelsie is the one! Check her out on our facebook page, YouTube channel or give us a call at 573-308-2709.