PairADice's Princess
Auction HIP #46
OWNER INFO:
PairADice Mules
573-308-2709
Pairadicemules@hotmail.com
MULE QUALITIES:
Rope Heel - Started
Reining Horse - Started
Kid Horse - Finished
Rope Calves - Started
Ranch Horse - Finished
Barrel Horse - Started
Parade Horse - Finished
Cutting - Started
Trail - Finished
Mounted Shooting - Prospect
MULE DISPOSITION =
2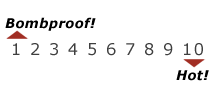 MULE DETAILS:
| | |
| --- | --- |
| Sex: | Mare Mule |
| Color: | Dark Sorrel |
| Height: | 14.3 |
| Weight: | 1100 |
| Age in Years: | 8 |
DESCRIPTION | PairADice's Princess
Princess is a really classy, 14.3 hand mare mule that has excellent conformation. She has a big smooth hip, broad front end, clean neck and beautiful head. She is out of a good quarter mare and sired by the great jack Horseshoe Hills Colonel. I love all of the mules out of the Colonel and she is no exception. She has been used extensively for trail riding, coon hunting, hog hunting, penning cattle in the stockyard and ranch work. She has a really nice handle, rides one-handed, super soft in the bridle, walks/trots/lopes circles, takes both leads, sidepasses and has a really nice turn around. Princess loves attention and will be one of the first to be caught. She is easy to shoe and clip. She stands good to be mounted. She will suit any level of rider and is 100% safe and sound. Check out her videos on facebook and our website, pairadicemules.com. You can reach me at 573-308-2709. She is really an outstanding mule and will make you an excellent lifetime trail riding partner.