Pairadice's Dolly
Auction HIP #14
OWNER INFO:
Pairadice Mules
5733082709
Pairadicemules@hotmail.com
MULE QUALITIES:
Rope Heel - Prospect
Reining Horse - Started
Kid Horse - Finished
Rope Calves - Prospect
Ranch Horse - Started
Barrel Horse - Prospect
Parade Horse - Finished
Cutting - Started
Trail - Finished
Mounted Shooting - Prospect
MULE DISPOSITION =
2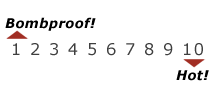 MULE DETAILS:
| | |
| --- | --- |
| Sex: | Mare Mule |
| Color: | Bay |
| Height: | 14.1 |
| Weight: | 1100 |
| Age in Years: | 7 |
DESCRIPTION | Pairadice's Dolly
Pairadice's Dolly is an extremely stout, short mule. She has great conformation, big hip, broad chest, and holds a saddle great. She stands like a rock when mounting and will let you use a mounting block. She will carry a big rider, a young rider or an inexperienced rider. She has lots of miles trail riding and hog hunting. She is great to lead dogs on and will go anywhere you point her. She never jumps ditches or logs and does not give out on the big hills. She rides good in the arena, has a great handle on her, neck reins, sidepasses, takes both leads and has a rocking chair lope. She is good to catch, clip, shoe and saddle. She is very willing to please. She is easy to open and close a gate on. She will suit any level rider. She will be a great addition to anyone's herd. 100% safe and sound. Call me at 573-308-2709. Videos will be available on our Facebook page.