Pairadice's Shiloh
Auction HIP #67
OWNER INFO:
Pairadice Mules
5733082709
Pairadicemules@hotmail.com
MULE QUALITIES:
Rope Heel - Started
Reining Horse - Started
Kid Horse - Finished
Rope Calves - Started
Ranch Horse - Finished
Barrel Horse - Started
Parade Horse - Finished
Cutting - Started
Trail - Finished
Mounted Shooting - Prospect
MULE DISPOSITION =
2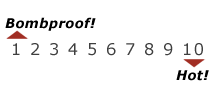 MULE DETAILS:
| | |
| --- | --- |
| Sex: | Mare Mule |
| Color: | Sorrel |
| Height: | 14.3 |
| Weight: | 1100 |
| Age in Years: | 7 |
DESCRIPTION | Pairadice's Shiloh
Pairadice's Shiloh is an outstanding All Around Mule. She has done all aspects of ranch work and has lots of miles trail riding and hog hunting. She has excellent conformation with a clean neck, pretty head, good hip and broad chest. She is straight legged and wide between the hocks and front legs. She has a good wither and holds a saddle really well. She has a lot of personality and is the first one at the gate everyday even when being rode regularly. She is super soft in the bridle and on her sides. She has a good handle on her, sidepasses, neck reins, takes both leads and has a big stop. She loves to be clipped, shod, bathed and anything that has to do with being with her. She will go anywhere you point her trail riding and can really walk when asked. If you are looking for a good All Around Mule, she is the ONE. She is 100% safe and sound. Any questions, call me at 573-308-2709. Videos will be available on Facebook.