Rivers
Auction HIP #01
OWNER INFO:
Jake & T.J. Clark
307.272.4563
wyomingtj@yahoo.com
MULE QUALITIES:
Kid Horse - Finished
Parade Horse - Finished
Trail - Finished
MULE DISPOSITION =
2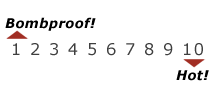 MULE DETAILS:
| | |
| --- | --- |
| Sex: | Mare Mule |
| Color: | Palomino |
| Height: | 15 |
| Weight: | 11 |
| Age in Years: | 12 |
DESCRIPTION | Rivers
Rivers is a 15 hand, 12-year-old mare mule that weighs 1100# and is a beautiful palomino color. She is absolutely gentle in every way; being good to clip, catch, shoe, and good about her ears. We have used her in our wilderness outfitting business for 4 years and has seen everything there is in the mountains. An example what what she has been through, packing camp, elk, and duffel. She has walked through rivers, streams, mud, snow, rain and sleet. She has climbed up and down the steep terrain that we hunt in and the green grassy meadows that we see on our summer pack trips. Rivers has been packed many miles along with being ridden even more miles. She will fit most any member of your family for years to come.