Rose
Auction HIP #22
OWNER INFO:
T. J. Clark
307.272.4563
wyomingtj@gmail.com
MULE QUALITIES:
Rope Heel - Started
Rope Calves - Started
Ranch Horse - Finished
Trail - Finished
MULE DISPOSITION =
2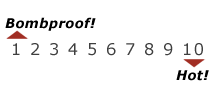 MULE DETAILS:
| | |
| --- | --- |
| Sex: | Mare Mule |
| Color: | Red Roan |
| Height: | 15.1 |
| Weight: | 1250 |
| Age in Years: | 7 |
DESCRIPTION | Rose
Rose is a 7-year-old roan mare mule. She stands 15.1 hands and weighs 1250#. She has a terrific mind and the conformation to go with it. Rose is absolutely gentle for most folks to ride or pack. We have used her in our outfitting operation for 3 seasons; packing, riding, and leading large strings of pack mules in and out of Wyoming's wilderness and Yellowstone National Park. She as covered numerous trails that go over mountain passes, through rivers and streams, and across trails during our summer trips and fall hunting season in and out of camp. She has been through trails that are mountain clean, game trails, those that have had downed timber, and those that have had rain and snow, mud up to her knees, and handled them all very well. She has been T.J.'s main mount for the last 2 years.
She is very broke to ride and absolutely gentle. She has been used for ranch work doing all aspects of the job from doctoring cattle outside, dragging calves to the branding fire and moving large herds of cattle. Rose will literally catch you, is great to shoe, clip or anything else you might dream up. Rose is quite possibly the best mule we have ever offered in our sale.