Sally Anne
Auction HIP #45
OWNER INFO:
Joe Wood
9706880249
wjoe604@aol.com
MULE QUALITIES:
Rope Heel - Started
Reining Horse - Started
Kid Horse - Finished
Rope Calves - Prospect
Ranch Horse - Finished
Barrel Horse - Prospect
Parade Horse - Finished
Cutting - Started
Trail - Finished
Mounted Shooting - Started
MULE DISPOSITION =
3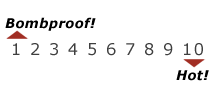 MULE DETAILS:
| | |
| --- | --- |
| Sex: | Mare Mule |
| Color: | Sorrel |
| Height: | 14.3 |
| Weight: | 975 |
| Age in Years: | 12 |
DESCRIPTION | Sally Anne
Sally Anne is a pretty sorrel molly mule. She is 12 years old and stands 14.3 hands tall. We had her consigned to Jake's sale last year but drew her out because of a lump on her jaw, from which she shortly recovered but at the time of the sale was not 100%. Keeping her another year made everyone at home happy anyway! Sally came to us from a great mule man that knows good mules and how to make them. He raised her from a foal, broke her to ride and she was his favorite mode of transportation even to church where he pastored and Sally was the local celebrity. Since she came to our house she has become a favorite of everyone from little kids, to cooks, guides and cowboys. We have used her in every aspect of the outfitting business and ranch. She gets thru rough country with ease so she is every guide's favorite and has spent months in hunting camp. I have roped everything off her from runaway pack mules to big ol cows and she has drug alot of calves to the fire. She has an unreal walk, loves to cover country and is gentle for just about anybody. We have grown to love her and she will be missed. A great mule!