Scotchie
Auction HIP #46
OWNER INFO:
Chris Knudson
307-680-4875
cknudson@wyodakenergy.com
MULE QUALITIES:
Rope Heel - Started
Reining Horse - Finished
Kid Horse - Finished
Rope Calves - Finished
Ranch Horse - Finished
Barrel Horse - Started
Parade Horse - Started
Cutting - Started
Trail - Finished
Mounted Shooting - Started
MULE DISPOSITION =
3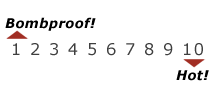 MULE DETAILS:
| | |
| --- | --- |
| Sex: | Horse Mule |
| Color: | Palomino |
| Height: | 14.3 |
| Weight: | 1050 |
| Age in Years: | 7 |
DESCRIPTION | Scotchie
Scotchie is a special mule that I am proud to offer for your consideration. He has doctored sick calves at weaning and works a rope well. He has halter broke colts, gathered Powder River breaks in the winter, drug calves to the fire and roped in the arena. He is light mouthed, has hunted lions and spent time in camp. Scotchie bends at the poll and moves off a leg. He will meet you at the gate with his ears up everyday. He pulls strong on the horn and watches a cow with the handy string. Scotchie has a very nice blend of disposition and ability. There is not a lazy bone in his body. Nice, nice saddle mule.