Shady Lady
Auction HIP #18
OWNER INFO:
Jeff and Christina Tift
307-752-9319
jefftift@rangeweb.net
MULE QUALITIES:
Rope Heel - Started
Reining Horse - Started
Kid Horse - Prospect
Rope Calves - Started
Ranch Horse - Finished
Barrel Horse - Prospect
Parade Horse - Finished
Cutting - Started
Trail - Finished
Mounted Shooting - Started
MULE DISPOSITION =
2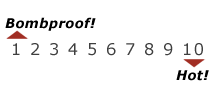 MULE DETAILS:
| | |
| --- | --- |
| Sex: | Mare Mule |
| Color: | Black |
| Height: | 15.3 |
| Weight: | |
| Age in Years: | 7 |
DESCRIPTION | Shady Lady
Rafter F Shady Lady.
Oh, What a stunning 15.3 hand black molly mule. She is registered with the American Donkey and Mule Society,
is 7 years old and out of a jack named Ima Colt 45 and a quarter horse mare.We bought this fancy mare mule from Matt and Pamela Fournier
and have enjoyed every day of owning and riding her.She is very easy to catch,is easy to shoe, good with her ears and to bridle. She
will pick you up from a log, rock, bucket, or fence. I have wrangled horses and started and halter broke colts with her and also used her
all last summer behind cattle on a grazing lease at 8000 ft in the Bighorn Mountains. I hunted elk and deer on her all last fall along
with wild havolina's and donkeys this spring in Arizona. Shady is hobble broke, pickit broke, has been packed and will cross the
rivers and downed timber with ease. This mule picks up her leads and is very soft in the face and bridle. She will sidepass and has
done the arena tricks like pushing the ball, cracking the bullwhip,all the tarps and flags,and riding thru the noodles. Shady really
walks out nice on the trail with a free rein and has lead many a packstring. She will lope nice collected circles, turn around correctly
on her hock and ride bareback. This beautiful mule could go english or western. She has never been broncy or spooky in any way.
I believe anyone that has any kind of horse or mule sence would really get along with and love her. This is as classy a mule as
there is out there and one of the best that I have owned. For more information and video's or if you want to come ride her before the sale
please call Jeff at 307-752-9319 Pictures and video at www.wyominghorsesandmules.net