Skye
Auction HIP #20
OWNER INFO:
Shawn Petersen
(208)221-5544
sdpete@monsanto.com
MULE QUALITIES:
Rope Heel - Started
Reining Horse - Started
Kid Horse - Finished
Rope Calves - Started
Ranch Horse - Started
Barrel Horse - Prospect
Parade Horse - Finished
Cutting - Started
Trail - Finished
Mounted Shooting - Started
MULE DISPOSITION =
1=Bombproof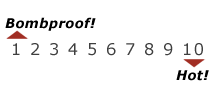 MULE DETAILS:
| | |
| --- | --- |
| Sex: | Mare Mule |
| Color: | Sorrel with flaxen mane and tail |
| Height: | 16.1 |
| Weight: | 1100 |
| Age in Years: | 7 |
DESCRIPTION | Skye
Skye is out of Wayne Lackeys Jack (Olan) currently standing at Rockin NT Mules for Nathan and Tara Medcalf. Olan' colts are nationally known for their natural gentle disposition, Skye is a prime example. She was one of the featured mules from the very first American Mule Trainers Challenge (AMTC) in Truth or Consequences, New Mexico. All training has been done by Shawn Petersen. Skye has under saddle many miles of hard work including miles in the rugged terrain of Idaho and Nevada and used as my personal mule for clinics in Arizona. Skye is extremely gentle and rides in the arena for reining and cow work and is equally comfortable trail riding or packing. I have used this mule to teach many riders, old and young, to learn to ride in both settings of arena and mountain trail. She has packed game, camp in many settings, including wild game feed on the winter range. I have full confidence in this mule, not only does she ride, she rides nicely off the rein and leg, all while remaining soft in the mouth and light on the bit. I am very proud to be offering this great mule at such a fine sale. Winning bidder will have the option of a free one on one, three day clinic with Shawn Petersen to help you get acquainted to your new mule. Videos can be found on my YouTube channel (Shawn Petersen Mules) under Skye. Thank you so much for looking. Shawn Petersen (208)221-5544. Please call with any questions.