Sweet Vidalia
Auction HIP #06
OWNER INFO:
Shawn Petersen
208-221-5544
shawnpetersen37@gmail.com
MULE QUALITIES:
Rope Heel - Started
Reining Horse - Finished
Kid Horse - Started
Rope Calves - Started
Ranch Horse - Started
Barrel Horse - Started
Parade Horse - Finished
Cutting - Started
Trail - Finished
Mounted Shooting - Started
MULE DISPOSITION =
2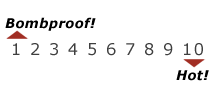 MULE DETAILS:
| | |
| --- | --- |
| Sex: | Mare Mule |
| Color: | Bay Roan |
| Height: | 14.3 |
| Weight: | 950 |
| Age in Years: | 8 |
DESCRIPTION | Sweet Vidalia
Sweet. Broke. Gentle.
A kind eye and a big heart. Vidalia will win you over with her gentle nature. An easy to catch mule that moves nicely off your leg with a great handle, whether it's a neck rein or being soft and bendy on a direct rein. Vidalia lays down to mount and dismount with the cue of a tap on her shoulder, she rides bareback, pulls a pack string or packs your gear. Vidalia is a looker with standout color that roans out when she slicks off. She is accommodating to any level of rider, with an honest disposition. Vidalia is an easy keeper that falls in the upper end of the herd with a balanced sense of confidence. All our sale mules have logged countless trail miles and arena hours. They are professionals in our obstacle course including laying down on cue for mount or dismount. They have spent time pulling a pack string and have each been packed. They all cross water, downfall, bridges, drag logs, you can stand on their back, crack a whip, carry a flag, bath, clip, shoe, trailer, hobble, catch and lead. Take a look at her videos on YouTube @ Petersen Mule Company or call Shawn @2082215544 or Nellie @4065606301. As with all our mules you have the option of a free 3 day riding clinic at our facility in order to become acquainted with your new mule!