Sweetie
Auction HIP #01
OWNER INFO:
Jake & T. J. Clark
307.272.4563
jake6635@gmail.com
MULE QUALITIES:
MULE DISPOSITION =
1=Bombproof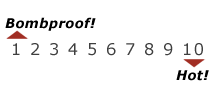 MULE DETAILS:
| | |
| --- | --- |
| Sex: | Mare Mule |
| Color: | Sorrel and White Paint with 4 stocking legs |
| Height: | 15 |
| Weight: | 1050 |
| Age in Years: | 7 |
DESCRIPTION | Sweetie
I have owned this mule for 4 years. She's been ridden and packed with just anything, and leads anywhere in the string. You will like her best in the front because she won't pull back while she is being lead. She crosses water well, good to shoe, loads, hauls and clips good. She likes to stay and be around camp. She is 15 hands and easy to get on. Used her in our hunting camp for the last 3 years. We have ridden her up and down trails, guided hunters, drug bales of hay with her. She knows how to do a jog, and when she wasn't being ridden, she was used in a pack string. She is very good to get along with and everyone has enjoyed riding her, you will, too.