Tater Tot
Auction HIP #41
OWNER INFO:
Scott Kincheloe
307-587-6711
scott.kincheloe@yahoo.com
MULE QUALITIES:
Rope Calves - Started
Ranch Horse - Started
Trail - Finished
MULE DISPOSITION =
4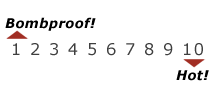 MULE DETAILS:
| | |
| --- | --- |
| Sex: | Horse Mule |
| Color: | sorrel |
| Height: | 14.2 |
| Weight: | 900 |
| Age in Years: | 12 |
DESCRIPTION | Tater Tot
Tater Tot is a 12 year old mule. He is easy going and walks out like a champ. Take him to the hills to ride or pack. Rides out by himself without issues. He is sure to fit into your string. Good with his feet and to shoe. He'll take you wherever you want to go, sure footed and smart. Down timber, shale, water, ice, mountain lions and grizzlies, nothing seams to phase him. He's led lots of pack strings and will fit in the front, middle, or drag. Tater has packed lions, meat, horns, and hounds. We've used him to drag elk. He'll even jump in the back of your truck! Please watch his video, it shows many of his talents.