Trapper
Auction HIP #06
OWNER INFO:
Petersen Mule Company (Shawn & Nellie Petersen)
208 221 5544
petersenmulecompany@gmail.com
MULE QUALITIES:
Rope Heel - Started
Reining Horse - Finished
Kid Horse - Finished
Rope Calves - Started
Ranch Horse - Started
Barrel Horse - Started
Parade Horse - Finished
Cutting - Started
Trail - Finished
Mounted Shooting - Started
MULE DISPOSITION =
2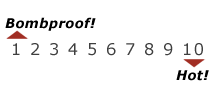 MULE DETAILS:
| | |
| --- | --- |
| Sex: | Horse Mule |
| Color: | Unique Bay |
| Height: | 15 |
| Weight: | 1050 |
| Age in Years: | 8 |
DESCRIPTION | Trapper
Show stopping, head turning confirmation and color, pictures just cannot do him justice. Trapper is a good size and holds a saddle well. He is a looker, with a kind eye and heart to match. He loves to be ridden and has enough energy for any type of work or can relax and enjoy a leisurely trail ride. He is even-tempered and a quick thinker allowing him to accept what is asked without hesitation. Trapper will handle any job handed to him whether it be ranch work, leading a pack string, going straight up, straight down, over rocks, down slides, through rain, snow , sleet or shine, he is ready to roll. CONFIDENT and Kind, Trapper is easy to take out on his own and ride all day without worry.
All Petersen Mule Company Auction Mules are purchased with the option of a free 3 day clinic at our facility to ensure a successful transition to their new home. Each mule we bring to Jakes sale has been screened and carefully chosen for this select sale. All our sale mules have logged countless trail miles and arena hours. They are professionals in our obstacle course, they each lay down on cue for mount or dismount. They have spent time pulling a pack string and have each been packed. They all cross water, downfall, bridges, drag logs, you can stand on their back, crack a whip , carry a flag, bath, clip, shoe, trailer, hobble, catch and lead. They have been trained to pick you up from a gate, mounting block or stump. Please check out all our Jake Clark Mules on YouTube, Facebook, or Instagram @PetersenMuleCompany