Yahtzee
Auction HIP #12
OWNER INFO:
Oly & Cristina Edmiston
970-556-4820
cow-vet@hotmail.com
MULE QUALITIES:
Rope Heel - Started
Reining Horse - Started
Rope Calves - Started
Ranch Horse - Finished
Barrel Horse - Started
Parade Horse - Started
Cutting - Started
Trail - Finished
Mounted Shooting - Started
MULE DISPOSITION =
4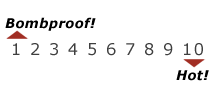 MULE DETAILS:
| | |
| --- | --- |
| Sex: | Horse Mule |
| Color: | Bay |
| Height: | 13.3 |
| Weight: | 875 |
| Age in Years: | 8 |
DESCRIPTION | Yahtzee
Yahtzee is as cute a mule as you are going to find. He is one hand broke and moves off your legs. He is a shorter mule, but his good bone and deep heart girth allow him to be an all day kind of mule. He has been a good feedlot and ranch mule, he has been hog hunting, and he likes trail riding. Yahtzee is no stranger to anything you may encounter on the trail such as tunnels, dogs, bridges, joggers, bicycles, rivers, all kinds of automobiles, and the list goes on. He rides well in the arena and knows his leads. Yahtzee is easy to be around. He likes being groomed, is easy to catch, loads, backs out of the trailer, and stands for saddling and mounting. Call Oly for more information and check out our facebook page (www.facebook.com/stockworksinc) for the latest picture and videos. Sale video coming soon.