Boots
Auction HIP #19
OWNER INFO:
Rafter D Mules
651-303-7056
Rafterdhorses@gmail.com
Consignor Bio
MULE QUALITIES:
Rope Heel - Finished
Reining Horse - Started
Kid Horse - Started
Ranch Horse - Finished
Parade Horse - Finished
Cutting - Started
Trail - Finished
MULE DISPOSITION =
1=Bombproof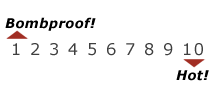 MULE DETAILS:
| | |
| --- | --- |
| Sex: | Mare Mule |
| Color: | Sorrel |
| Height: | 14.3 |
| Weight: | 1000 |
| Age in Years: | 11 |
DESCRIPTION | Boots
Just a plain sorrel…there's nothing plain about this gal! Boots has class from every angle. She is very personable and good to catch. She is respectful on the ground- good to handle feet and ears, clips well and easy to tack up. Boots has a good back but will also ride in a britchen or crupper- your choice.
Boots has been used extensively around cattle sorting, penning and roping. She excels at working cattle as it showcases her athletic ability and training. Boots has great body control that makes working gates a breeze. She has been roped on in the branding pen as well as heeling steers in the arena.
Boots has a wide range of experience and is a well rounded individual. She has been exposed to all types of terrain, obstacle courses, dogs, atvs, wagons and more. She takes it all in stride. Boots rides one handed and soft. She is easy to trail ride on and will go alone or in a group. She has a smooth, ground covering walk. Check her out at Mule Days. I will be using her in many competitions. For more information please call 651-303-7056.
BLEMISHES | Boots
Missing hair on right front pastern