Brandy
Auction HIP #43
OWNER INFO:
Rafter D Mules
651-303-7056
Rafterdhorses@gmail.com
Consignor Bio
MULE QUALITIES:
Reining Horse - Started
Kid Horse - Started
Ranch Horse - Started
Parade Horse - Finished
Trail - Finished
MULE DISPOSITION =
1=Bombproof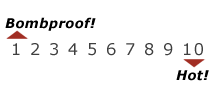 MULE DETAILS:
| | |
| --- | --- |
| Sex: | Mare Mule |
| Color: | Blue roan with blaze |
| Height: | 15.0 |
| Weight: | 1100 |
| Age in Years: | 7 |
DESCRIPTION | Brandy
Brandy checks all the boxes. She is a great size with tons of shape. Her blue roan color with a beautiful blaze makes her stand out. But Brandy's best trait is her disposition. Sweet, quiet and willing-that's her. Brandy is a pro on the trails. She crosses water, logs and ditches with ease. She's been in big, open country and dense woods. She's not bothered by dogs jumping out of the brush or any wildlife they might flush up. Brandy has been on wagon trains and ridden in large groups. She is unfazed by wagons. Brandy is also good around traffic and ATVs. If you're into social distancing, Brandy is happy to head out alone. She's a no nonsense, tack up and go kind. She's calm, gentle and a pleasure to be around. Brandy is great to handle on the ground, haul around and everything in between. Besides being a pro on the trails, Brandy is calm and willing with obstacles such as bridges, teeter totter's, tarps and balls. Brandy is an old soul that is easy to love. She acts like she's seen everything under the sun because we've yet to see her unsteady. For more information call 651-303-7056.
BLEMISHES | Brandy