Colonel
Auction HIP #48
OWNER INFO:
Winston Way
970-819-1129
w2horses1@gmail.com
Consignor Bio
MULE QUALITIES:
Rope Calves - Started
Ranch Horse - Finished
Trail - Finished
MULE DISPOSITION =
2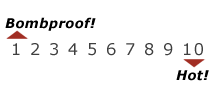 MULE DETAILS:
| | |
| --- | --- |
| Sex: | Horse Mule |
| Color: | Bay |
| Height: | 15.1 |
| Weight: | 1050 |
| Age in Years: | 6 |
DESCRIPTION | Colonel
Colonel, the complete package, and the best all-around mule you will find! He is exceptional, easy going and a ranch trail deluxe! He is a beautiful bay with excellent conformation standing 15.1 hh. Colonel has a beautiful way of going, soft smooth lope and an excellent handle. He lopes both leads, neck reins, responds to leg cues, stops, and backs with ease. He side passes to open and close gate without hesitation. He lays down on command and will side pass to the mounting block to make mounting easy. Colonel is experienced and quiet on the trail. He is confident in rough country, sure footed and will willingly ride out alone or in a group. He is good with traffic, water, bridges, wildlife, dogs, bull whips, and cattle. Colonel is a very nice Quarter Mule that is handy to have on the ranch, with lots of experience doctoring and working cattle. If you are looking for a fun, gentle mule to do ranch work and/or trail ride, Colonel is the mule for you! He can do it all and is happy to do whatever you ask of him. For more information call 970-819-1129.
BLEMISHES | Colonel