Cooper
Auction HIP #28
OWNER INFO:
Cobb Family Mules
208-550-1571
mattcobb20@yahoo.com
Consignor Bio
MULE QUALITIES:
Rope Heel - Finished
Reining Horse - Finished
Kid Horse - Finished
Rope Calves - Finished
Ranch Horse - Finished
Barrel Horse - Finished
Parade Horse - Finished
Cutting - Finished
Trail - Finished
Mounted Shooting - Finished
MULE DISPOSITION =
3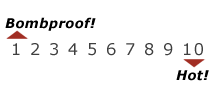 MULE DETAILS:
| | |
| --- | --- |
| Sex: | Horse Mule |
| Color: | Dun |
| Height: | 14.2 |
| Weight: | 1000 |
| Age in Years: | 13 |
DESCRIPTION | Cooper
Cooper is the ultimate ALL-AROUND mule! He can do it all! On top of that, he is absolutely gorgeous with a tail that drags the ground and all the color you dream of. Take him to the arena for shows or head down the trail for a week long hunting trip. Cooper has been team roped on extensively and is good on both ends. He has been used in mounted shootings and has been ridden in a lot of parades. Cooper is a family favorite for any job on the ranch, and he is great at sorting, branding, gathering and doctoring cattle. Cooper has been hauled to local team roping jackpots, play days and ranch ropings. Cooper is also an outstanding trail mule he has spent a lot of nights out in the wildernesses of Idaho and Oregon. He is an outstanding mule to ride out front and lead the string as he has a ground covering walk and will go through any obstacle. Cooper has the smoothest gaits and the nicest rocking horse canter that you will ever see. We can't say enough great things about this mule. He really can Do it All!! Please call 208-550-1571 for more info.
BLEMISHES | Cooper