Cuervo
Auction HIP #27
OWNER INFO:
Rafter D Mules
651-303-7056
Rafterdhorses@gmail.com
Consignor Bio
MULE QUALITIES:
Rope Heel - Started
Reining Horse - Started
Rope Calves - Started
Ranch Horse - Started
Parade Horse - Started
Cutting - Started
Trail - Finished
MULE DISPOSITION =
3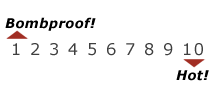 MULE DETAILS:
| | |
| --- | --- |
| Sex: | Horse Mule |
| Color: | Sorrel blanket App |
| Height: | 15.2 |
| Weight: | 1150 |
| Age in Years: | 6 |
DESCRIPTION | Cuervo
You can't ride Cuervo without getting noticed. He is a stand out blanket App. We bought this young mule a year ago. Our hired man fell in love with him and has used him relentlessly since.
Cuervo spent a week at the National Chuckwagon Races in Clinton, Arkansas. It's a wild place for anyone that doesn't know! There he crossed the river at least a dozen times a day- traveling from the races to concerts and all the night parties. He was hobbled for hours then packed a not-so-sober rider back to camp. He led a colt packing a cooler and carrier saddle bags with ice. During all his miles there, Cuervo perfected the ground covering walk.
Cuervo rides soft in the face and has a lovely rocking chair lope. He knows his leads and has great body control. He has a lot of potential to be a show mule if that's your thing. Otherwise, Cuervo will get you noticed anywhere you take him. We have been roping the machine on him all winter and should be heading slow steers by sale time. For more information please call 651-303-7056.
BLEMISHES | Cuervo