Doodlebug
Auction HIP #22
OWNER INFO:
Delainee Ellsworth
(208) 875-9059
delaineerenee@gmail.com
Consignor Bio
MULE QUALITIES:
Kid Horse - Started
Ranch Horse - Started
Parade Horse - Started
Trail - Finished
MULE DISPOSITION =
2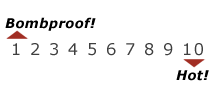 MULE DETAILS:
| | |
| --- | --- |
| Sex: | Horse Mule |
| Color: | Brown |
| Height: | 14.1 |
| Weight: | 900 |
| Age in Years: | 6 |
DESCRIPTION | Doodlebug
Doodlebug is a 6 year old brown 14.1 john mule. He is everything you could ask of a young mule. Doodlebug is incredibly willing, kind-hearted, and gentle. He walks out on the trail like no other and goes any direction you point him. This mule crosses water, bridges, and logs on the trail without a hitch. In addition, he is a remarkable arena mule. He walks, trots, and lopes both directions. Good with his feet and ears, loads with ease, has impeccable ground manners, and stands tied without a problem. Doodlebug is easy to get along with and suitable for almost any rider. This exceptional little mule is ready to go in any direction you point him with an open-mind and big heart. For more information, contact 3E Equine.
BLEMISHES | Doodlebug