Duce
Auction HIP #31
OWNER INFO:
George White
406-200-1139
vaughan72568@gmail.com
Consignor Bio
MULE QUALITIES:
Rope Heel - Started
Rope Calves - Started
Ranch Horse - Started
Parade Horse - Started
Trail - Started
MULE DISPOSITION =
2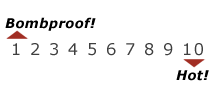 MULE DETAILS:
| | |
| --- | --- |
| Sex: | Horse Mule |
| Color: | Buckskin |
| Height: | 15.1 |
| Weight: | 1150 |
| Age in Years: | 6 |
DESCRIPTION | Duce
6 years old 15.1 weighs 1150 lbs. Buckskin gelding
He is very gentle. Rides, drives, and packs. I haul him in a one-horse trailer. Everything has been done on him. He has been ridden on roads. I have gathered and worked cattle on him and have drug calves at the brandings. He crosses water. Very gentle. Good to catch and shoe and clips. He has been around cars, trucks, and trailers. He stands very well to get on and off of. Again, he is very gentle and has never attempted to buck. He saddles and hitches nice. He drives single and double. He is 100% sound and there are no blemishes or marks on him. He does NOT like pigs. There will be more videos coming. For more information please call 406-200-1139.
BLEMISHES | Duce
NONE