Ellie
Auction HIP #12
OWNER INFO:
Timber Creek Outfitters
563-382-4733
Rafterdhorses@gmail.com
Consignor Bio
MULE QUALITIES:
Rope Heel - Prospect
Reining Horse - Started
Rope Calves - Prospect
Ranch Horse - Started
Parade Horse - Finished
Cutting - Started
Trail - Finished
MULE DISPOSITION =
2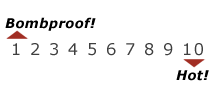 MULE DETAILS:
| | |
| --- | --- |
| Sex: | Mare Mule |
| Color: | Red roan with stockings |
| Height: | 14.3 |
| Weight: | 1150 |
| Age in Years: | 10 |
DESCRIPTION | Ellie
Folks if you want a fancy, been there done that type of mule, check Ellie out!!! She has been out and about in the bright lights of Ft. Worth Texas as a driving and riding mule. She is use to long horn cattle and every type of human that may be found in the Stock Yards. She lost her mate and has been a top end riding mule since then. She has a great handle and can spin. We have used her on our outfit a lot, she has packed many riders through trails and hills and she can really travel. Ellie has a big walk on her can go all day under saddle. Like all our other mules she's been in the dark deep woods at night, coon hunting and the hounds run all around her. She has class and you will get noticed riding this beautiful gal. She is great out in the wilderness and has seen lots of wildlife. We have also used her in the sorting pens with the cattle. Come check her out! For more information please call 563-379-2968.
BLEMISHES | Ellie