Firefly
Auction HIP #23
OWNER INFO:
Jake Clark & Mike Sikveland
406-690-8134
saddlehorses@ash-horses.com
Consignor Bio
MULE QUALITIES:
Rope Heel - Started
Reining Horse - Started
Kid Horse - Started
Rope Calves - Finished
Ranch Horse - Finished
Barrel Horse - Started
Parade Horse - Finished
Cutting - Started
Trail - Finished
Mounted Shooting - Started
MULE DISPOSITION =
4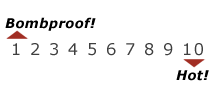 MULE DETAILS:
| | |
| --- | --- |
| Sex: | Mare Mule |
| Color: | Sorrel |
| Height: | 16 |
| Weight: | 1000 |
| Age in Years: | 5 |
DESCRIPTION | Firefly
This Flashy sorrel molly mule has the class, style, and handle to turn heads. To top it off she has a great disposition.
From being a slave to her trade. Riding in rough country, putting her in a pack string, riding in feedlots, or being used at a stock cow sale, she will get you through a full day's work in style.
Fire Fly is also traffic safe, good down the trail, crosses water, logs, and bridges. She is also fun to sort cattle on and has seen more black cattle than the all Mighty.
Don't overlook this dandy mule. She could lead off in any discipline, from a ranch mule to the performance ring or a hunting mule.
Don't miss out on ole Fire Fly she is a DOLL. For more information please call 406-690-8134.
BLEMISHES | Firefly