Fuzzy Wuzzy
Auction HIP #18
OWNER INFO:
Jake & TJ Clark
307-272-8792
wyomingtj@yahoo.com
Consignor Bio
MULE QUALITIES:
Ranch Horse - Finished
Trail - Finished
MULE DISPOSITION =
3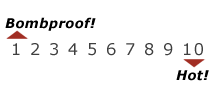 MULE DETAILS:
| | |
| --- | --- |
| Sex: | Mare Mule |
| Color: | Buckskin |
| Height: | 14.3 |
| Weight: | 1050 |
| Age in Years: | 7 |
DESCRIPTION | Fuzzy Wuzzy
Fuzzy Wuzzy is a beautiful 7-year-old Buckskin Mare Mule that stands a stout 14.3 hands high and will weigh 1050#. We raised her, and her mother was an own Granddaughter of Dash To Fame and Firewater Flit on the Bottom. If ever one was bred to perform, here she is. She is very gentle to be around and handle. She has three years packing experience in our outfitting business. She has been exposed to all the trail obstacles that our Wyoming mountain country can show one. She has also been ridden to pen back on at the sale barn and is nicely broke. She is great to catch, shoe, load, clip and just anything you want to do. She is certainly "purdy" to look at.
BLEMISHES | Fuzzy Wuzzy