Lily
Auction HIP #03
OWNER INFO:
Jason Griffin
573-225-7144
jgauction1978@gmail.com
Consignor Bio
MULE QUALITIES:
Kid Horse - Finished
Ranch Horse - Finished
Parade Horse - Finished
Trail - Finished
MULE DISPOSITION =
1=Bombproof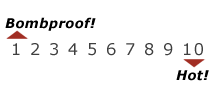 MULE DETAILS:
| | |
| --- | --- |
| Sex: | Mare Mule |
| Color: | Sorrel |
| Height: | 14.3 |
| Weight: | 1050 |
| Age in Years: | 10 |
DESCRIPTION | Lily
Lily is a 10 year old sorrel mare mule that stands 14.3 HH. Lily has been trail ridden all over the Midwest and she has also been hauled every year since she was 3 years old to Colorado and New Mexico on elk hunting trips. She has been used for ranch work, rode in parades and used for giving riding lessons. If you are looking for your first time mule or a babysitter, Lily will fit any level rider from experienced to non-experienced. She loads/unloads trailers, ties, saddles and bridles with ease. Great to clip, bathe, pick up all 4 feet, and stands quiet for the farrier as well as the vet. She has a great one hand neck rein and lopes right off in her tracks. We have also used her in other phases of ranch work from penning and sorting cattle at the local livestock yard to gathering and checking fences on the ranch. Since Lily was 3 years old she has been coon hunted off of every winter. Another unique aspect Lily brings to the table is the fact you can lead dogs and pack game on her and it does not bother her a bit. She is sure one of the favorites at our barn and I'm sure she will be at yours too. For more information call 573-225-7144.
BLEMISHES | Lily
None