MERCEDES
Auction HIP #06
OWNER INFO:
WILD BUNCH MULE CO
501-213-8594
wildbunchhorseandmuleco@gmail.com
Consignor Bio
MULE QUALITIES:
Rope Heel - Finished
Reining Horse - Finished
Kid Horse - Finished
Rope Calves - Started
Ranch Horse - Finished
Barrel Horse - Finished
Parade Horse - Finished
Cutting - Started
Trail - Finished
Mounted Shooting - Prospect
MULE DISPOSITION =
2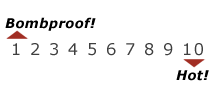 MULE DETAILS:
| | |
| --- | --- |
| Sex: | Mare Mule |
| Color: | Bay |
| Height: | 14.0 |
| Weight: | 1089 |
| Age in Years: | 7 |
DESCRIPTION | MERCEDES
MERCEDES is such a sweet natured mule. She loves to please. She is willing to go anywhere and do anything. She was out of a black standard jack and a stocky built sorrel Quarter Horse mare. She was used by one of her previous owners to ride and pack elk in Colorado and he rode her on trails in Oklahoma where he lived. We directly purchased her from a young man in Oklahoma that had been using her to ride and doctor wheat pasture cattle. She is sure footed and rides off by herself just fine. She will ride over hills, thru bogs and thru water without hesitation. She doesn't like briars but will go on thru them with just a little urging. She has no buck, bite, kick or any other ugly behavioral problems. She does not get fresh with layoff time. She is good to trim, shoe, clip, bathe, tie and load in the trailer. She has impeccable ground manners overall. She is not hard to catch, bridle or saddle. She has a super nice pleasure lope. She walks, trots and lopes upon cues. She does obstacles great. She is not spooky. She doesn't mind dogs, nor is she mean to them. She has had her teeth floated. She will be current on her Coggins test, vaccinations, worming and have a new set of shoes at the sale. Look for us to show her in some other events throughout the week, besides the mandatory trail course. You can buy with confidence from our family. We want to help you find your first mule or your next mule. For more info, pics or videos, contact Jennifer at 501-213-8594.
BLEMISHES | MERCEDES