Maggie
Auction HIP #37
OWNER INFO:
Dillon Corrington
651-303-7056
Rafterdmules@gmail.com
Consignor Bio
MULE QUALITIES:
Rope Heel - Prospect
Kid Horse - Prospect
Ranch Horse - Started
Parade Horse - Started
Trail - Finished
MULE DISPOSITION =
1=Bombproof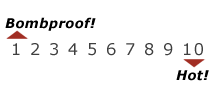 MULE DETAILS:
| | |
| --- | --- |
| Sex: | Mare Mule |
| Color: | Sorrel |
| Height: | 15.3 |
| Weight: | 1250 |
| Age in Years: | 7 |
DESCRIPTION | Maggie
Here is a quality mule! Maggie has the size and substance to fit a wide range of riders and jobs. She has plenty of bone and foot to hold up on rough terrain. Maggie has a sweet temperament and is a personable mule. She is a joy to be around.
Maggie has been extensively trail ridden. She is steady on the trail whether alone or in a group. She crosses both natural and man made obstacles with confidence and ease. She will sidepass to a mounting block or stump for mounting convenience. She has also been used to move and pen cattle at the sale barn. Maggie has an abundance of potential and can be enjoyed by people from varying walks of life.
BLEMISHES | Maggie