Malibu Barbie
Auction HIP #23
OWNER INFO:
John and Molly Sparrow
208-566-3050
mollyroberts14@hotmail.com
Consignor Bio
MULE QUALITIES:
Reining Horse - Started
Kid Horse - Started
Ranch Horse - Started
Parade Horse - Finished
Cutting - Started
Trail - Finished
Mounted Shooting - Prospect
MULE DISPOSITION =
2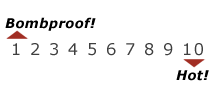 MULE DETAILS:
| | |
| --- | --- |
| Sex: | Mare Mule |
| Color: | Palomino |
| Height: | 14.3 |
| Weight: | 1000 |
| Age in Years: | 9 |
DESCRIPTION | Malibu Barbie
Malibu Barbie is a good looking girl with the ability to go anywhere and do anything. She is a true palomino, but she's not a blondie when it comes to her brains. She's smart, athletic and very willing to please. She walks out big, has a beautiful jog trot, and collected lope with a perfect headset to bring it all together. Malibu shines in the arena, but is also great out on the trails. She's seen tons of miles of trails and been around all types of wildlife including elk, deer, birds, and moose. She stands tied, is good with her feet, and likes to be with people. She's been thoroughly desensitized and anyone can ride her. She crosses logs, brush, water, bridges, mud bogs, and anything else you can find. Malibu has been high-lined, packed, and hobbled. She rides bareback and is the same if you ride every week or once a year. She's been shown at every local team penning, mule show, playday, and horse show in the area and always wins the crowd's hearts and a few ribbons. Malibu saddles easy and isn't cinchy or cold-backed. She can be a bit funny about her ears every once in awhile while bridling, but loves to have them scratched. She rides out alone or in a group, and can be in the front, middle, or back. She side passes, performs haunch and forehand turns, and has a nice neck rein. Malibu is the type of mule you can count on and enjoy everyday. Malibu sells with an optional and complimentary two-day clinic to help build a solid foundation with your new partner. Check out JM Lazy S Performance Horses and Mules to see more video, pictures, and updates on Malibu up until sale day! Or give us a call - Molly: 208-566-3050 or John: 208-310-5686.
BLEMISHES | Malibu Barbie