Miss Blue
Auction HIP #20
OWNER INFO:
Jeff and Christina Tift.
307-752-8197
jefftift@rangeweb.net
Consignor Bio
MULE QUALITIES:
Rope Heel - Prospect
Reining Horse - Prospect
Kid Horse - Prospect
Rope Calves - Prospect
Ranch Horse - Prospect
Barrel Horse - Prospect
Parade Horse - Started
Cutting - Prospect
Trail - Started
Mounted Shooting - Prospect
MULE DISPOSITION =
2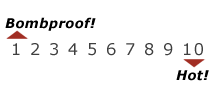 MULE DETAILS:
| | |
| --- | --- |
| Sex: | Mare Mule |
| Color: | Blue Roan |
| Height: | 15.1 |
| Weight: | |
| Age in Years: | 1 |
DESCRIPTION | Miss Blue
Miss Blue is one of the sweetest mules I have ever worked with. From the day she was born, she has been naturally gentle and wanting to be with people. She is also incredibly smart and willing and is learning everything so fast! She is really easy to catch anywhere, leads well, is soft and responsive to the halter and is great about picking up her feet.
Miss Blue loves a good ear scratch and is just very polite and easy to be around and handle.
She lays down on cue, has been saddled (with a light english saddle) and ground worked. She already side passes over to a bucket or fence so she will be easy to get on when that time comes. She has also had some liberty training and is just over all very impressive for her young age. She has also been exposed to all the arena toys and does great with balls, tarps, going thru the noodles, cracking the bullwhip around her and flags. She is easy to bathe, loads well, stands tied good and has been ponied out.
Miss Blue is registered with the American Mule Registry. She is sired by our registered Mammoth Jack Hunter Mtn. Crow, who is a double bred Texas Scooter bred jack. and her Dam a nice homozygous roan AQHA mare that is Leo Hancock Hayes bred.
We expect her to mature around 15.1 hands tall with nice bone and foot and a well-balanced conformation.
Miss Blue has a nice dark, roan color and is as close to a true-blue roan mule as we have ever had. That is very existing to us as they are very rare.
This sweet mule is sure to make someone the most amazing friend and partner and we are beyond exited and proud to get to offer her to you here at Jake Clarks Mule days.
You can follow along on Christina Bach Tift facebook page and watch her as she progresses with her liberty and other training as we get ready for saleday. There will also be a full and up to date video available closer to sale day. You can find it on our website www.WyomingHorsesAndMules.net
We would also love to tell you more about her and you are welcome to call anytime 307-752-8197.
BLEMISHES | Miss Blue