Pairadice's Jessie
Auction HIP #41
OWNER INFO:
Loren Basham
573-308-2709
Pairadicemules@hotmail.com
Consignor Bio
MULE QUALITIES:
Rope Heel - Prospect
Reining Horse - Started
Kid Horse - Finished
Rope Calves - Prospect
Ranch Horse - Started
Barrel Horse - Started
Parade Horse - Finished
Cutting - Started
Trail - Finished
Mounted Shooting - Prospect
MULE DISPOSITION =
2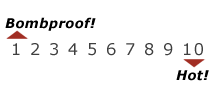 MULE DETAILS:
| | |
| --- | --- |
| Sex: | Mare Mule |
| Color: | Sorrel |
| Height: | 15 |
| Weight: | 1050 |
| Age in Years: | 7 |
DESCRIPTION | Pairadice's Jessie
Pairadice's Jessie is a 15 hand, 7-year-old, 1050 pound molly mule. She is cherry red/sorrel with a light muzzle. We have trail ridden her by herself and with a crowd. She will ride in the front, middle or back, it does not matter to her. We have hog hunted her a lot and you can lead dogs on her. She really gets around good in the rough stuff and goes anywhere you point her. She never jumps ditches and crawls over downed timber the best. She really has a good, fast walk when you ask her for it. Jessie has a nice one handed neck-rein, sidepasses and has a really good, smooth lope.
We have been using her in the stockyards to pen back cattle and nothing gets her stirred up. She is easy to catch, clip and shoe. She saddles up like she is supposed to and stands good to mount and dismount. She will come up to a mounting block to let you mount. She loads in any kind of trailer and backs out when asked.
We have ponied colts and pack mules on Jessie.
She would make a great addition to anybody's barn. She is the ideal size and temperament to be the perfect trail/mountain mule.
For more information, please give Loren a call at 573-308-2709 and watch our Facebook and Instagram pages (Pairadice Mules). Please reach out to Loren if you have any questions about this outstanding trail mule.
BLEMISHES | Pairadice's Jessie
NA