Pairadice's Lola
Auction HIP #14
OWNER INFO:
Pairadice Mules
573-308-2709
pairadicemules@hotmail.com
Consignor Bio
MULE QUALITIES:
Rope Heel - Started
Reining Horse - Started
Kid Horse - Finished
Rope Calves - Started
Ranch Horse - Started
Barrel Horse - Prospect
Parade Horse - Finished
Cutting - Started
Trail - Finished
Mounted Shooting - Prospect
MULE DISPOSITION =
2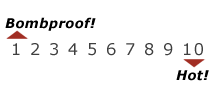 MULE DETAILS:
| | |
| --- | --- |
| Sex: | Mare Mule |
| Color: | Paint |
| Height: | 14.1 |
| Weight: | 950 |
| Age in Years: | 9 |
DESCRIPTION | Pairadice's Lola
Pairadice's Lola is a 9 year old, 14.1 hand, roan and white paint mule. She is the complete package! Beauty, brains, talent, training, real world experience and safety. She has excellent conformation and is the perfect height with a big mule body, big hip, broad chest and holds the saddle great. She is very pretty with a unique color. You will travel many miles to find one that is as pretty as she is. Pairadice's Lola is the kind of mule people dream about owning and the chance only comes once in a lifetime.
She has been trail rode all across the United States. She goes wherever you point her. She will lead, ride in the middle or will bring up the rear. She is confident down the trail, where she will cross any obstacle in her path and take care of her rider. She loads in any kind of trailer and backs out when asked. Pairadice's Lola has been to the National Championship Chuckwagon Races and took all the excitement that goes with the races in stride. I have hunted on her and lead dogs off of her. She has been used countless hours in the stockyards penning cattle and opening gates. She rides great in the arena as well. She walks, trots and lopes nice circles, crosses all obstacles, neck reins, side passes and has a nice stop. She is very soft and moves off of leg pressure. We have had her in every situation we can think of and she takes everything like a champ. She is ready to be somebody's forever mule.
Lola's looks, combined with her friendly demeanor, make her a hit wherever she goes. No one walks by this mule without giving her a second look. Just spend 5 minutes with her and you will she why she has stolen our hearts. She is fun to ride and nothing really bothers her - dogs, farm machinery, loud equipment, tarps, balls, and more. She is light and easy to handle making her a favorite for anyone who wants to ride. She navigates up and down the trail, over down trees, bridges and through rivers for any level of rider. Lola really is an all-star and will excel in anyone's program.
Watch for more videos on our facebook page (Pairadices Mules) or call us with any questions. Loren Basham 573-308-2709. pairadicemules@hotmail.com
BLEMISHES | Pairadice's Lola
None