Pairadice's Rooster
Auction HIP #13
OWNER INFO:
Loren Basham
5733082709
Pairadicemules@hotmail.com
Consignor Bio
MULE QUALITIES:
Rope Heel - Finished
Reining Horse - Started
Kid Horse - Finished
Rope Calves - Started
Ranch Horse - Finished
Barrel Horse - Started
Parade Horse - Finished
Cutting - Started
Trail - Finished
Mounted Shooting - Prospect
MULE DISPOSITION =
2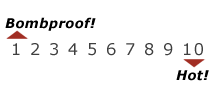 MULE DETAILS:
| | |
| --- | --- |
| Sex: | Horse Mule |
| Color: | Red Roan |
| Height: | 14.3 |
| Weight: | 1100 |
| Age in Years: | 11 |
DESCRIPTION | Pairadice's Rooster
Pairadice's Rooster is an 11 year old red roan john mule. He is 14.3 and 1100 pounds. He has excellent conformation, big bone, big foot, great wither and a broad chest and hip. Rooster is a finished team roping mule. You can rope either end on him. He has lots of run and is super cowy. He is really solid in the box and scores great. On the heel side, he never runs past the corner and can really stop.
Rooster is good on the outside too. You can doctor, sort and drag anything on him. If it has to do with a bovine, Rooster has done it! He is really strong to the horn and has loaded lots of cattle.
He loves attention and is easy to catch, clip and shoe. He saddles up like a gentleman and stands all day to mount. He has great ground manners, will stand for hours tied without pawing. Send him towards the trailer and he loads himself and backs off when asked.
Rooster has a great neck-rein, sidepasses and takes both leads. He has been used regularly in the stockyards and has opened thousands of gates. He is great for any level rider. He will ride in the front on the trail if you want to lead or is just as happy hanging out in the middle or the back of the pack.
It is ok if team roping is not your deal. Rooster would be an awesome trail riding, ranch versatility, sorting, family friendly mule. Check out our videos on our Facebook page or call Loren at 573-308-2709. We are happy to share what an outstanding mule this is or answer any questions. Pairadice Mules
BLEMISHES | Pairadice's Rooster
NA