Powder
Auction HIP #45
OWNER INFO:
Jason Griffin
573-225-7144
jgauction1978@gmail.com
Consignor Bio
MULE QUALITIES:
Rope Heel - Finished
Kid Horse - Finished
Rope Calves - Finished
Ranch Horse - Finished
Parade Horse - Finished
Trail - Finished
Mounted Shooting - Finished
MULE DISPOSITION =
1=Bombproof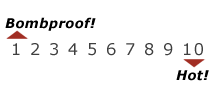 MULE DETAILS:
| | |
| --- | --- |
| Sex: | Horse Mule |
| Color: | Dun |
| Height: | 14.3 |
| Weight: | 1100 |
| Age in Years: | 10 |
DESCRIPTION | Powder
Powder is a 10 year old line back dun with lots of dun factor. He stands 14.3 HH and weighs 1100 Ibs. If you are going to talk about this mule you better have a big breath of air. Powder is a finished ranch mule and team roping mule. He has been hauled to big jackpots in the team roping as well as the working cow horse events. Powder excels in trail riding in rough terrain, the hills won't get to steep and the water won't get to deep. Deadfall is NO PROBLEM. This is for sure a point and go mule, and is safe for any level rider. Powder has also been used solely for hog, bear and elk hunting. He has a one hand two finger neck rein. He loads/unloads, trailers, ties, saddles and bridles with ease. Powder catches, clips, bathes, stands for the blower, farrier and vet. If you need one to work for a living or just be your best friend and trail riding mule, POWDER will fit the bill. For more information please call 573-225-7144.
BLEMISHES | Powder
None